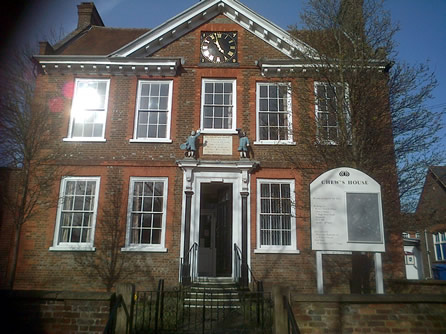 Chew's House Dunstable. The school erected in memory of William Chew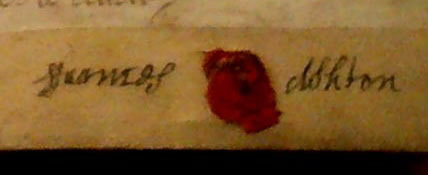 Frances Ashton's Signature
Frances married William Ashton, a distiller in London around 1678. They had eight children, all but one of whom pre-deceased Frances. She was widowed and lived on to the age of 80, dying in 1727. Only her daughter Elizabeth survived her.
Frances' brother William died, probably unexpectedly, in 1712, leaving no issue and no will. His estate was split by lot between Frances, her sister Jane Cart and her nephew Thomas Aynscombe. The three lots included farms in various places, an estate in Dunstable and an estate in London. The lots were distributed by seniority, Frances acquiring the second lot which included farm land, and property in Dunstable and London. The three recipients used part of their inheritance to endow a school in Dunstable for the teaching and clothing of forty poor boys a project which was known to have been their brother's wish in life. The school building, now called Chew's House, still stands in High Street South, Dunstable. As a separate act Frances arranged for six alms-houses to be built in Dunstable. Frances' sister Jane Cart outlived all her siblings and became a wealthy and notable citizen of Dunstable. She died in 1736.
At the time of her death Frances lived in the St Giles Cripplegate area of London. In her will she asked that she should be buried at Dunstable church near her brothers Thomas and William. She left money for funeral expenses and for a monument to be erected. After a considerable number of bequests she left an annual sum of £95 per annum to discharge poor prisoners from the Ludgate, Compters and Marshalsea prisons at no more than £5 per grant and the remainder of her estate was left for the relief of poor clergy of the Church of England and their widows. It is these two provisions which have come down to form the objects of the Frances Ashton Charity. The provision for discharged prisoners is fulfilled by an annual payment to a suitable prisoners' aid charity. Provision for clergy and clergy widows is the main business of the charity today.